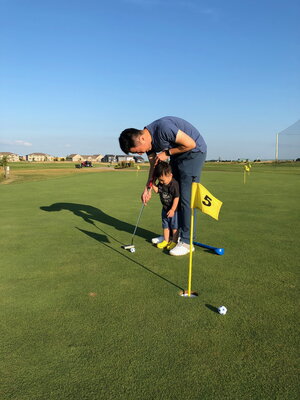 Pengfei Song is an assistant professor and Y.T. Lo Faculty Fellow in the Department of Electrical and Computer Engineering who specializes in ultrasound imaging. Song first came across ultrasound while pursuing his BS in Biomedical Engineering at Huazhong University of Science and Technology. "There was this professor with some research projects focused on using MATLAB to perform image reconstruction," he recalled. "I got really interested in that project, so I learned more about medical and ultrasound imaging." Song then followed this interest in ultrasound from China to the United States, where he achieved his MS in Biological Systems Engineering at the University of Nebraska-Lincoln and his PhD in Biomedical Engineering at the Mayo Clinic College of Medicine and Science.
At the beginning of his career in research, Song studied shear wave elastography, an ultrasound technique used to measure tissue stiffness. More recently, however, he shifted his focus to microvascular imaging. "The brain tissue heavily relies on blood flow, so if you can measure blood flow noninvasively at a high spatial and temporal resolution, you can do a lot in studying the basic functions of the brain," Song explained. "You can study pathological conditions like stroke, dementia, Alzheimer's disease, and brain injury. I steered part of my research program into neuroscience because I think there's a lot of opportunities for ultrasound to image blood flow in the brain."
When asked about his favorite part of the research process, Song responded, "You know, we are engineers. We develop tools. I think my favorite part is finding out what applications there are that fit our tools. We have an analogy saying that we engineers build beautiful hammers, but sometimes we cannot find a nail." Song and his research team increase their chances of finding applications for their ultrasound imaging technologies by connecting with Illinois faculty outside of the Department of Electrical and Computer Engineering. Through this practice of interdisciplinary engagement, Song familiarized himself with the Beckman Institute for Advanced Science and Technology, where he is now a full-time faculty member. "I think joining the Neuroscience Program opened up a lot of collaboration opportunities for us. We get to communicate more often with potential users of our imaging technologies. We get to learn their needs, and then we can better develop techniques to meet those needs."
Song believes that the sheer size of the University of Illinois encourages such collaboration. "At Illinois, we have a very diverse and very interdisciplinary research mindset," he remarked. "If you look at just our Neuroscience Program, we have tons of faculty members, research labs, and researchers from all over the campus." Not long ago, Song and his team needed a dicing saw to conduct their research, a state-of-the-art tool that can be hard to come by. It just so happened that the Grainger College of Engineering had three of these saws on their campus. "The size of our university is truly amazing, and the possibility of finding someone who can help you is very high."
Although he finds fulfillment and community within academia, Song recognizes that his line of work is not for everyone. "You have to really love it. A research career is very difficult, so you can easily get burned out if you don't like the job," he shared. "If you are somebody who wants to be told what to do and follow a regular schedule, then this is not the job for you." Personally, Song appreciates the flexibility and freedom of such an unstructured work schedule. "Every morning, driving out of the garage on the way to work, I get to ask myself, 'Okay, what am I going to do today?' Nobody is going to tell me 'You need to do this, this, and this' once I get to campus. I get to decide what I'm going to do. That's actually a luxury, if you think about it."
For self-motivated people interested in pursuing his same career path, Song emphasizes the importance of cultivating one skill in particular: writing. "Once you are an independent researcher, your life is mostly just writing. It's writing grants, editing your students' papers, and writing teaching materials. Writing is very, very important," he explained. Song elaborates that good academic writing is defined by how one communicates the logical thinking behind their research. "There's a reason why it's called 'Doctor of Philosophy'. There's no 'Doctor of Engineering' or 'Doctor of Physics'. It's 'Doctor of Philosophy'. Research is a philosophical discipline if you think about it."
Song is not only open about the demanding nature of a research career but also about the frequency of failure. "For every ten things I work on, probably only one works out. The other nine fail," Song shared freely. However, he does not portray failure as something to avoid or be ashamed of. In fact, Song finds that failure offers researchers opportunities for both learning and resilience. "A more experienced researcher knows more because they know more about failure," he explains. "The more you fail, the more you know about what you should do and what you should not do. I actually think that is how life works in general."
Clear and constructive criticism is crucial when working with other researchers. However, Song draws a clear distinction between how he approaches his colleagues on a professional level and how he approaches them on a personal level. He attributes this practice to his main PhD advisor James Greenleaf. "Jim taught me that you must be very sharp and very critical in research. You must have a high standard for yourself. But he also believed that, at the end of the day, we're all still human beings. We all have a personal life, something much larger than what we do at work. Treat your work seriously, but when you're dealing with people on a personal level, you don't have to be mean. You don't have to carry over your critical attitude from work."
As a PhD advisor himself now, Song reiterates the importance of feeling truly passionate about one's research. "I always tell my students, 'Hey, you're getting a PhD. This should be a fun process. The moment that you find it's not fun anymore, you should let me know, and we should work something out,'" he asserted. "I just don't think that doing research should be painful."
In his spare time, Song enjoys golfing and woodworking. While these activities help him relax after a long day of work, he believes that they both connect back to his passions for research and engineering. "I think golfing is very much like doing research. You are self-motivated, and you are trying to improve," he said. "And, you know, woodworking is a kind of engineering. You need to have the right tools for the job." Song has been teaching his two children how to golf. At the ages of five and two, however, they are not quite old enough to join him in the woodshop yet.
Written by Virginia Wright