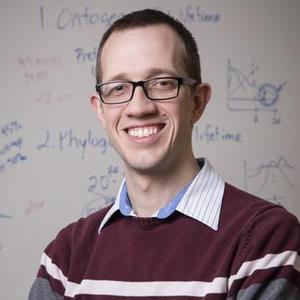 We welcome Brian B. Monson to the Neuroscience faculty.  Dr. Monson is an assistant professor of Speech and Hearing Science.  He received his Ph.D. in Speech, Language, and Hearing Science at the University of Arizona with minors in Neuroscience and Theatre Arts.  His Masters in Physics (Acoustics) is from Brigham Young University with a minor in Vocal Performance and his undergraduate degree in Electrical Engineering was received from Utah State University.  Prior to joining the University of Illinois, Dr. Monson had been in Boston where he was on the research faculty at Harvard Medical School and Brigham and Women's Hospital.
His overall objective of research is to determine how auditory experience shapes the auditory nervous system.  Research projects are divided into two domains within this objective:  (1) individual experience over ontogeny and (2) species experience over phylogeny.
Experience over ontogeny
Projects in this domain focus on how perinatal auditory experience influences brain development and later communication behavior. Projects include analysis of perinatal auditory cortex development using neonatal/fetal MRI, analysis of the fetal auditory environment, and investigation of how atypical perinatal auditory experience caused by preterm birth redirects the auditory developmental trajectory. 
Experience over phylogeny
Projects in this domain focus on the ecological value of extended high-frequency hearing (hearing at the highest audio frequencies, beyond 8,000 Hz). While speech perception theory maintains that extended high-frequency hearing is of little value for speech perception, this research is based on the hypothesis that the human auditory nervous system has obtained and retained extended high-frequency hearing capability due to its perceptual utility with conspecific communication (i.e., speech).  Projects include investigation of human perceptual sensitivity to the highest frequencies produced during speech, and examination of the effects of simulated extended high-frequency hearing loss on speech perception performance.