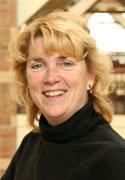 Career Development
What field in Neuroscience did you study? What about the research process did you enjoy? Did you prefer gathering the data, brainstorming its meaning, the writing process, defending your research, presenting your research, etc.
My thesis research focused on neuroendocrine modulators of memory.  I appreciated that all aspects of the research process were important, but I most enjoyed seeing the data come together to tell a story that built on the literature and offered new insights.
Do you still conduct research or has your career taken you other places? Why is that?
I still lead some research projects today, but as Director of the Beckman Institute's Biomedical Imaging Center, most of my work focuses on making sure that the Center remains true to its mission of developing and translating technology to improve health outcomes.  My postdoc was focused on building collaborations between academia and clinical care and twenty years later, it's still my passion.
What is one major change that happened since graduation that you did not expect?
I did not expect to still be at the University all these years later. One great opportunity after another presented itself; I am busier with each passing year and I cannot imagine a more stimulating or exciting career.
Personal
How would you say you've changed since graduating? 
Remaining at UIUC has resulted in my personal life being completely interwoven into the fabric of the University. We had no family nearby so my faculty mentor became godmother to one of my children. Our family is strongly focused on social justice issues and believe that education is the most important gift that you can give your children. Education allows them to become "persons for others" regardless of what work they do or what activities they participate in.
Legacy
What's a fond memory you have as a graduate student?
My favorite memories of graduate school are of being part of a culturally diverse and dynamic research community/lab.  We worked long days in the lab and enjoyed many social events together, like cookie decorating contests.
I was lucky enough to be supported by a training grant led by Prof. Bill Greenough.  I have many fond memories of Bill and other faculty members.  Two special memories include Bill's limericks at the end NSP seminars and him asking me to wear a t-shirt promoting animal research while I was 7 months pregnant!  He and other faculty were always larger than life to me.   On one occasion, I received an email from a faculty member correcting my spelling of the word "remunerate".  I had spelled it "renumerate".  Had the faculty member sent the note to the entire group or with a condescending tone, I would have been terribly embarrassed.  Instead, they took the time to inform, and kindly suggested that it was a word that was often misspelled.  I don't know if that was true, but I know how much I appreciated that they said so. 
As a graduate student, was there anything you did that stood out to you or that you have fond memories of doing?
There were many events and activities that stood out, but I especially enjoyed hosting potential new students and attending SFN annual conferences.
What impact do you hope your thesis has on the field of Neuroscience? If you currently in research, what do you hope your work has on the field? If not, then how do you feel about the impact you left on the field and its importance?
Looking back, I realized that even as a graduate student, I chose to combine disciplines.  I'm happy to see that the way that we pursue science has evolved and involves more sharing and collaborations. I am pleased to see that there are a variety of ways to contribute to our ever-growing and changing knowledge base and that more women are involved in shaping the content and style of our research conversations. I am hopeful that the work that my colleagues and I do at our Center underscores the power and joy of interdisciplinary collaboration.
What legacy do you hope to leave behind?
The people I most admire do amazing work, but I admire them the most for "how" they do that work.  While I hope to pursue science that is meaningful, I hope more, that I pursue it in a way that reflects my belief that we are here to do for others. Like research, it's a process that never ends.