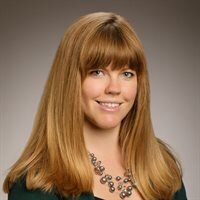 Join us in congratulating IHSI research development manager and Neuroscience Program alumna, Dr. Kelsey Hassevoort, who recently received the 2022 Rising Star Award from the National Organization of Research Development Professionals (NORDP) for her outstanding, early career contributions to the organization and her strong potential for future contributions to the field of research development.
"I'm honored to have received this award from an organization that has been important to my career development over the last few years," said Hassevoort. "I have so much appreciation for everyone within NORDP who has welcomed me into the field of research development, and for my colleagues at IHSI who have been a constant source of support and encouragement as I've stepped into new volunteer roles within NORDP."
The National Organization of Research Development Professionals (NORDP) is a robust, national peer network of research development professionals that enhances competitive multi-, inter- and transdisciplinary research, with a mission to advance the global capacity for and impact of research by strengthening the practice and profession of research development.
Within NORDP, Kelsey currently serves on the Professional Development (PD) Committee and Committee on Inclusive Excellence (CIE), and is the Chair of the Communications Working Group and member of the 2023 National Conference Planning Committee. She has also participated in the mentoring program as a mentee for the past two years and is embarking upon her first year as a mentor after serving as a Career Navigator last year. The relationships Kelsey has built and the diverse perspectives her NORDP colleagues have shared have given her a better perspective to bring back to her work at Illinois.
At IHSI, Kelsey leads the Community-Academic Partnerships core and is also part of the Research Development core. In her current role as an IHSI research development manager, Kelsey develops programs to support community-academic partnerships in the health space, with the goal of establishing the public engagement infrastructure necessary for community partners and researchers to form equitable collaborations to address the public health challenges facing our community.
IHSI's Senior Director for Research and Core Development, Dr. Gillian Snyder commended Kelsey on receiving the award. "Though Kelsey has only been a member of NORDP for 3 years, she has given more time and energy to the organization than most people do across their careers," said Snyder. "Her service and commitment to NORDP shows how dedicated she is to this field; always evident in her excitement to bring what she learns back to Illinois. We are lucky to have someone at IHSI who is passionate about research development and is determined to change the world!"