Laboratory of Integrated Biomedical Micro/Nanotechnology and Applications' (LIBNA) vision in integrating biology and medicine with micro and nanotechnology can be categorized into two broad areas, namely how micro/nano-fabrication can help solve problems in life sciences (such as diagnostics, therapeutics, and tissue engineering), and how we can learn more from life science to solve important problems in micro/nano-science and engineering (such as bio-inspired self-assembly, etc.).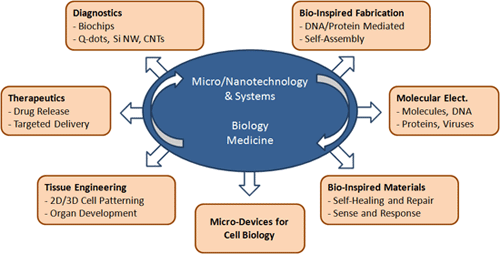 Thrust areas of research in our group are:
Field Effect Transistor Biosensing

Solid-State Nanopores

Point-of-Care Microfluidic Diagnostics Systems

Resonant Mass Sensors for Cellular Analysis

3D Bio-Fabrication
This is schematically shown to the right.
Our Principal Investigator is Rashid Bashir.
Check out the tabs below or on our website here to learn more.
Field Effect Transistor Biosensing
Point-of-Care Microfluidic Diagnostics Systems
Resonant Mass Sensors for Cellular Analysis