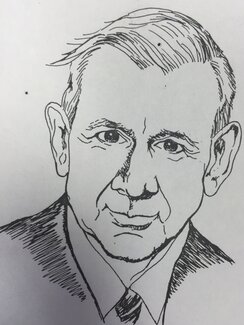 The C. Ladd Prosser Research Award recoginizes the research contribution of a Graduate Student that stands out as
THE BEST SCIENTIFIC ACHIEVEMENT with THE BROADEST SIGNIFICANCE for the discipline of neuroscience.
The Award Winner will be selected by NSP Executive Committee members and will receive a prize of $750.
C. Ladd Prosser (1907 - 2002) was professor of Physiology and Neuroscience at the University of Illinois Urbana-Champaign.  As department head he brought Biophysics into Physiology. He helped build the newly renamed Physiology and Biophysics Department which became one of the top 10 in the nation.  In the 1970s, Prosser, along with Ed Banks and Bill Greenough, helped establish the Neural and Behavioral Biology Graduate Program which in 1989 was reorganized and became the Neuroscience Program.  
Prosser was a comparative physiologist who emphasized neuroscience and strongly supported the concept that integrated knowledge of physiology benefited from both the similiarities and the contrasts that emerged when different organisms or systems were compared.
NOMINATIONS
Nominations should first be submitted and may be made by any NSP faculty member for Neuroscience Program students in good standing, including those who have graduated in the summer or fall of the award year.
Nominees will be asked to submit a research summary of no more than 1000 words describing the research, results, rationale and significance. A job application letter is a good model for this summary. The research/work must be published or in press in a peer-reviewed journal.
REQUIREMENTS
• Nomination by NSP faculty member
• NSP Graduate Student in Good Standing
• Submission of 1000 word or less research summary by nominee
• Faculty letter supporting research contribution and achievement
Sponsor
Neuroscience Prosser Student Award Fund