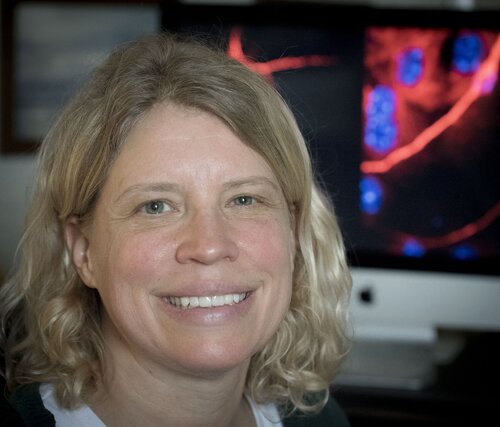 Contact Information
423 Medical Sciences Building
Biography
Professor Stephanie Ceman received a B.S., from the University of Wisconsin-Madison in Bacteriology, Ph.D. from the University of Wisconsin-Madison in Genetics
She was a Postdoctoral fellow at the University of Chicago in Immunology and a Postdoctoral fellow at Emory University in Atlanta, where she began her work on Fragile X syndrome. She is currently a professor in the department of Cell and Developmental Biology at the University of Illinois-Urbana Champaign with affiliations with the Neuroscience Program, Beckman Institute and the Institute for Genomic Biology. Her research is focused on understanding how protein translation regulation in the brain participates in learning and memory. 
Research Interest Bursts of new protein synthesis are required for learning and memory yet it is unknown how this process is regulated. Relevant mRNAs need to be localized in dendrites and translated for a brief period of time in response to a signal. The importance of microRNAs (miRNAs) in neuronal function suggests a key role for this pathway in translation arrest following local protein synthesis. Our hypothesis is that local protein production in neurons is regulated by a complex of the Fragile X Mental Retardation Protein (FMRP), Moloney leukemia virus 10 (MOV10) and Argonaute 2 (AGO2). FMRP is an RNA binding protein that binds brain mRNAs--primarily in the coding sequence—but also in the 3'UTR where it is involved in miRNA-mediated regulation. Its loss of expression leads to Fragile X Syndrome. MOV10 is an RNA helicase that associates with AGO2 and binds a significant portion of the mRNAs bound by FMRP as shown by our group (Kenny et al. 2014; Skariah 2017). Our hypothesis is that FMRP, MOV10 and AGO2 act together to regulate neuronal development and function by regulating translation. We are also very interested in MOV10's role in neuronal development and brain function. We use molecular and cell biology approaches, including advanced sequencing technologies on engineered mouse lines. 
Research Interests
Research Topics
Neurobiology, Protein-Nucleic Acid Interactions, Regulation of Gene Expression
Disease Research Interests
Neurological and Behavioral Disorders
Research Description
Molecular basis of disease, post-translational modifications, regulation of RNA expression, RNA-protein interactions
The human brain is made up of billions of specialized cells called neurons that act together to drive behavior, learning and memory through incompletely defined mechanisms. Neurons communicate with each other through their long cellular extensions that are composed of proteins. Proteins are encoded by messenger RNAs (mRNAs), which are copies of genes encoded by the hereditary material DNA. mRNAs are the recipes for proteins that are made in the cell and give the cell its unique identity. The subject of our current research is a recently characterized protein, RNA helicase MOV10, which is a cofactor of the microRNA pathway protein AGO2 and also of the Fragile X protein FMRP. We demonstrated that MOV10 is necessary for early embryonic development across species and for normal neuron development that includes producing the branches that connect neurons. The goals of our work are to identify the mRNAs that MOV10 unwinds, to understand how MOV10's unwinding activity is regulated by modification and/or associated proteins and to determine how MOV10 participates in the production of the dendritic branching that is critical for neuronal function.
Bursts of protein translation are required for normal development and neuronal function but it is unknown how this process is regulated. The goal of our research is to explore the key role of RNA unwinding on RNA fate. The RNA helicase MOV10 binds in proximity to MicroRNA Recognition Elements (MREs) in 3'UTRs.  It unwinds secondary structures in the RNA to allow access of the primary effector protein of the miRNA pathway, AGO2, to MREs. Using individual nucleotide Crosslinking Immunoprecipitation (iCLIP), we showed that MOV10 binds mRNAs encoding neuronal projection and cytoskeletal proteins in developing mouse brain, suggesting a role for MOV10 in regulating translation in dendrites. The hypothesis being tested is that MOV10 binds RNA G-quadruplexes (GQs), which are stable RNA secondary structures, to modulate AGO2 association to MREs in the 3'UTR. We have created a number of engineered mouse lines that allow us to explore MOV10's role in brain development and behavior.
Education
B.S., University of Wisconsin-Madison (Bacteriology)
Ph.D., University of Wisconsin-Madison (Genetics)
Postdoctoral fellow, University of Chicago
Postdoctoral fellow, Emory University
Additional Campus Affiliations
Professor, Cell and Developmental Biology
Professor, Biomedical and Translational Sciences
Professor, Beckman Institute for Advanced Science and Technology
Affiliate, Carl R. Woese Institute for Genomic Biology

External Links
Recent Publications
Nawaz, A., Kenny, P. J., Shilikbay, T., Reed, M., Stuchlik, O., Pohl, J., & Ceman, S. (2023). Serine 970 of RNA helicase MOV10 is phosphorylated and controls unfolding activity and fate of mRNAs targeted for AGO2-mediated silencing. Journal of Biological Chemistry, 299(4), Article 104577. https://doi.org/10.1016/j.jbc.2023.104577
Nawaz, A., Shilikbay, T., Skariah, G., & Ceman, S. (2022). Unwinding the roles of RNA helicase MOV10. Wiley Interdisciplinary Reviews: RNA, 13(2), Article e1682. https://doi.org/10.1002/wrna.1682
Lannom, M. C., Nielsen, J., Nawaz, A., Shilikbay, T., & Ceman, S. (2021). FMRP and MOV10 regulate Dicer1 expression and dendrite development. PloS one, 16(11 November), Article e0260005. https://doi.org/10.1371/journal.pone.0260005
Kenny, P. J., Kim, M., Skariah, G., Nielsen, J., Lannom, M. C., & Ceman, S. (2020). The FMRP-MOV10 complex: A translational regulatory switch modulated by G-Quadruplexes. Nucleic acids research, 48(2), 862-878. https://doi.org/10.1093/nar/gkz1092
DeThorne, L. S., & Ceman, S. (2018). Genetic testing and autism: Tutorial for communication sciences and disorders. Journal of Communication Disorders, 74, 61-73. https://doi.org/10.1016/j.jcomdis.2018.05.003