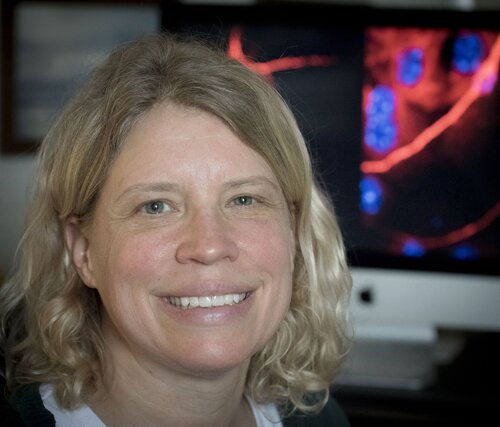 Contact Information
423 Medical Sciences Building
Biography
Professor Stephanie Ceman received a B.S., from the University of Wisconsin-Madison in Bacteriology, Ph.D. from the University of Wisconsin-Madison in Genetics
She was a Postdoctoral fellow at the University of Chicago in Immunology
and a Postdoctoral fellow at Emory University in Atlanta, where she began her work on Fragile X syndrome. 
She is currently an associate professor in the department of Cell and Developmental Biology at the University of Illinois-Urbana Champaign with affiliations with the Neuroscience Program, Beckman Institute and the Institute for Genomic Biology. 
Her research is focused on understanding how protein translation regulation in the brain participates in learning and memory. 
Additional Campus Affiliations
Affiliate, Carl R. Woese Institute for Genomic Biology
Professor, Cell and Developmental Biology
Professor, Beckman Institute for Advanced Science and Technology
Professor, Biomedical and Translational Sciences

Recent Publications
Kenny, P. J., Kim, M., Skariah, G., Nielsen, J., Lannom, M. C., & Ceman, S. (2020). The FMRP-MOV10 complex: A translational regulatory switch modulated by G-Quadruplexes. Nucleic acids research, 48(2), 862-878. https://doi.org/10.1093/nar/gkz1092
DeThorne, L. S., & Ceman, S. (2018). Genetic testing and autism: Tutorial for communication sciences and disorders. Journal of Communication Disorders, 74, 61-73. https://doi.org/10.1016/j.jcomdis.2018.05.003
Skariah, G., Perry, K. J., Drnevich, J., Henry, J. J., & Ceman, S. (2018). RNA helicase Mov10 is essential for gastrulation and central nervous system development. Developmental Dynamics, 247(4), 660-671. https://doi.org/10.1002/dvdy.24615
Skariah, G., Seimetz, J., Norsworthy, M., Lannom, M. C., Kenny, P. J., Elrakhawy, M., Forsthoefel, C., Drnevich, J., Kalsotra, A., & Ceman, S. (2017). Mov10 suppresses retroelements and regulates neuronal development and function in the developing brain. BMC biology, 15(1), [54]. https://doi.org/10.1186/s12915-017-0387-1
Kenny, P., & Ceman, S. (2016). RNA secondary structure modulates FMRP's bi-functional role in the microRNA pathway. International journal of molecular sciences, 17(6), [985]. https://doi.org/10.3390/ijms17060985