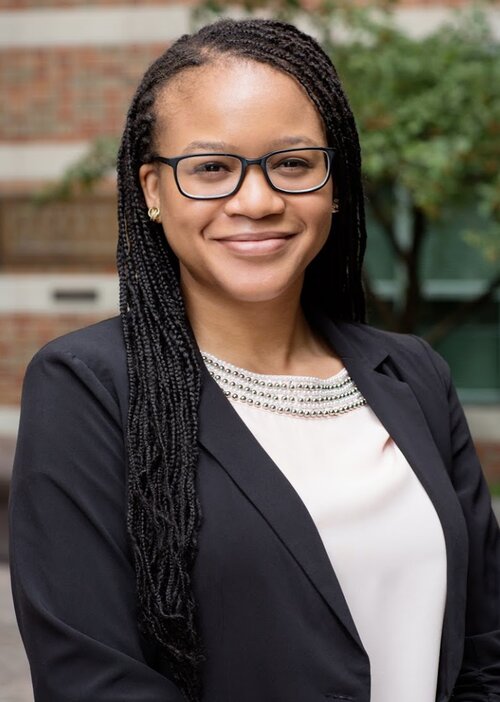 Contact Information
Beckman Institute for
Advanced Science and Technology
405 N Mathews Ave
Urbana, IL 61801
Research Areas
Advisor - Dr. Aron K. Barbey
Graduate Research Assistant
Research Interests
My general interest is in how genetic, metabolic, and lifestyle factors influence the brain across the life span. I want to understand what predictive information diet, body composition, metabolic status, and inflammation status can provide to support healthy brain aging outcomes. I am also interested in understanding health disparities in cognitive aging and how we can improve minority cognitive health outcomes.
Research Description
I am a graduate student in the laboratory of Dr. Aron Barbey at the Beckman Institute here at UIUC. One of my active projects involves analyzing data from the Longitudinally Dynamic Biomarkers of Healthy Brain Aging in the Illinois Elderly Adult Cohort, an interdisciplinary study supported by the Center for Nutrition, Learning, and Memory. One of the key aims of this study is to understand the role of nutrition in the healthy aging brain. The data being analyzed is multi-dimensional in nature, including brain imaging via MRI, nutritional biomarkers, diet history surveys, inflammatory proteins, and a variety of cognitive assessments.
A second project I have been pursuing involves analyzing data from the INSIGHT study, a multi-modal intervention study in young adults. The aim of my project is to characterize the role nutrition might play in the relationship between measures of brain health (structure and function) and measures of cognitive function (decision making and fluid intelligence).
Education
University of Illinois, Champaign, IL
Doctor of Philosophy in Neuroscience, Summer 2022
Indiana State University, Terre Haute, IN
Master of Arts in Experimental Psychology, 2014
Louisiana State University, Shreveport, LA
Bachelor of Science in Biological Science, 2011
Louisiana State University, Shreveport, LA
Bachelor of Science in Psychology, 2011 (Psi Chi)
Awards and Honors
Interdisciplinary Health Sciences Institute's Researcher Spotlight--Brain Health, Oct 2020
Beckman Institute Graduate Fellowship, Fall 2019-Spring 2020
UIUC Graduate College Distinguished Fellowship, 2015-2018
UIUC Summer Pre-Doctoral Institute Fellow, 2015
Service Award-Graduate College Educational Equity Programs, 2016 & 2017
Courses Taught
MCB 245- Human Anatomy & Physiology Laboratory; University of Illinois
MCB 251-Experimental Techniques in Molecular Biology; University of Illinois
CHLH 520-Health Behaviors; University of Illinois
CHLH 594-Health Disparities; University of Illinois
PSYCH 101-Introduction to Psychology; Indiana State University
External Links
Recent Publications
Key MN, Zwilling C, Talukdar T, Barbey AK. 2019. Essential amino acids, vitamins, and minerals moderate the relationship between the right frontal pole and measures of memory. Molecular Nutrition and Food Research. DOI: 10.1002/mnfr.201801048