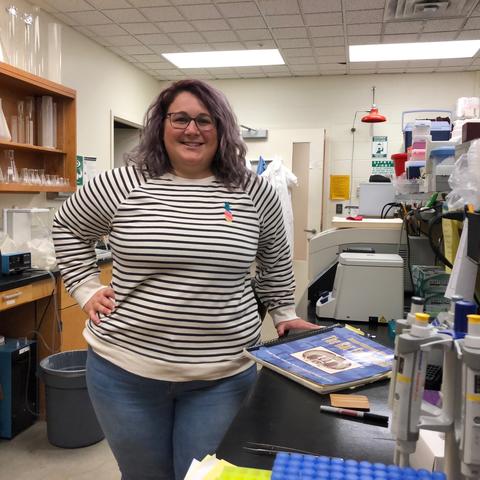 Contact Information
3635 Veterinary Medicine Basic Sciences Building
2001 S Lincoln Ave, Urbana, IL 61802
Environmental Toxicology Scholar
Teaching Assistant
Biography
Katherine joined Dr. Megan Mahoney's lab in fall 2015, when she started as a PhD student in the Neuroscience Program. Prior to coming to Illinois, Katherine completed her Bachelor of Science in Biochemistry and Cellular and Molecular Biology at the University of Tennessee in Knoxville, TN, in 2012. She then taught high school chemistry and human physiology in Chicago until 2014. Then, she completed her Master of Science in Neurobiology at Northwestern University between 2014-2015.
Research Interests
Circadian rhythms & circadian disruption
Endocrinology
Hypothalamic regulation of behavior and physiology
Toxicology
Epidemiology
Research Description
The overall aim of my research is to investigate the impact of environmental exposures on behavior and the brain. Using mouse models, I study exposures to environmentally relevant doses to phthalates, a stabilizing chemical found in plastics and cosmetics, and how they impact behavior and gene expression in brain regions relevant to those behaviors. Additionally, I have also completed research on how two models circadian disruption differentially impact locomotor activity, hypothalamic gene expression, and reproductive outcomes in rats. My dissertation will explore the impact of phthalate exposure and natural changes in endogenous hormones on sleep quality and depression severity in perimenopausal women.
Education
M. S. in Neurobiology (2015)
Northwestern University, Department of Neurobiology
Thesis: Sex differences in circadian influence on alcoholic-induced gut leakiness and implications for alcoholic liver disease
B. S. in Biological Sciences (2012)
University of Tennessee - Knoxville, College of Arts & Sciences
Concentration: Biochemistry and Cellular and Molecular Biology
Awards and Honors
Environmental Toxicology Scholar Fellowship (August 2017 – Present)
Interdisciplinary Environmental Toxicology Program, University of Illinois at Urbana-Champaign
Trainee Professional Development Award (September 2018)
Society for Neuroscience, Neuroscience 2018, San Diego, CA
Conference Travel Award (March 2018)
Developmental Neurotoxicology Society, June 2018 Meeting, Clearwater, FL
Victor A. Drill Award – First Place Poster (May 2017)
Midwest Regional Chapter Society of Toxicology 37th Annual Spring Meeting, Mundelein, IL
Conference Travel Award March 2017
Developmental Neurotoxicology Society, June 2017 Meeting
Billie A. Field Fellowship in Reproductive Biology (May 2016-May 2017)
Department of Comparative Biosciences, University of Illinois at Urbana-Champaign
Courses Taught
College of Veterinary Medicine, University of Illinois at Urbana-Champaign
August 2015-Present: VM602, VM603, VM604
October 2015-May 2016: VM601
Additional Campus Affiliations
Interdisciplinary Environmental Toxicology Program
Comparative Biosciences
External Links
Highlighted Publications
Hatcher K. M.,

Willing J., Chiang C., Rattan S., Flaws J. A., and M. M. Mahoney (2019). Exposure to di-(2-ethylhexyl) phthalate transgenerationally alters anxiety-like behavior and amygdala gene expression in adult male and female mice. Physiology & Behavior. https://doi.org/10.1016/j.physbeh.2019.04.018

Hatcher K. M.

, Royston S. E., and M. M. Mahoney (2018). Modulation of circadian rhythms through estrogen receptor signaling. European Journal for Neuroscience. Review.

https://doi.org/

10.1111/ejn.14184

Hatcher, K. M.

, & Mahoney, M. M. (2018). Circadian Rhythms—Male. In M.K. Skinner (Ed.), Encyclopedia of Reproduction. vol. 1, pp. 436–441. Academic Press: Elsevier. http://doi.org/10.1016/B978-0-12-801238-3.64612-3