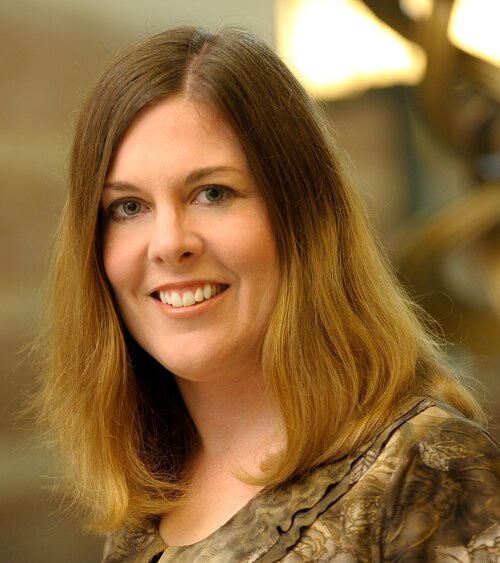 Contact Information
831 Psychology; 2115 Beckman Institute
Biography
Kara D. Federmeier received her Ph.D. in Cognitive Science from the University of California, San Diego. She is a Professor in the Department of Psychology and the Neuroscience Program at the University of Illinois and a full-time faculty member at the Beckman Institute for Advanced Science and Technology, where she leads the Illinois Language and Literacy Initiative and heads the Cognition and Brain Lab. 
Research Interests
language comprehension, semantic memory, age-related cognitive change, hemispheric differences, event-related potentials (ERPs)
Research Description
Dr. Federmeier's research uses human electrophysiological techniques in combination with behavioral, eye movement, and other brain imaging methods to examine how semantic information is structured as a function of modality and stimulus type, how it is brought to bear during language comprehension by younger and older adults, and how it is differentially accessed and used by the two hemispheres of the brain.
Education
1994: B.S., Summa Cum Laude, in Honors Biology, University of Illinois 
2000: Ph.D. in Cognitive Science, University of California, San Diego
Grants
A Process View of Reading among Adult Literacy Learners
IES 392 DE R305A130448; PIs: Anderson, Cohen, Federmeier, and Stine-Morrow
This project takes advantage of behavioral, eyetracking, and psychophysiological (ERP) methods to examine the nature of language processing in adult literacy learners as a précis to the development of instructional principles.
Hemispheric Differences in Memory and Language
R01, NIA, AG026308; PI Federmeier           
This project empirically tests models of language and memory asymmetries and examines their implications for age-related cognitive change.
Awards and Honors
Elected President of the Society for Psychophysiological Research  2016 - 2019
Named a College of Liberal Arts and Sciences Centennial Scholar  2013 - 2016
James S. McDonnell Foundation Scholar Award, Understanding Human Cognition Initiative   2010 - 2016
Named a University Scholar  2012 - 2015
Named a Fellow of the Psychonomic Society 2013
Named the Emanuel Donchin Professorial Scholar in Psychology     2013
Named a Fellow of the Association for Psychological Science          2012
Member of Gesellschaft für Unendliche Versuche (GUV)     2004 - 2012
Cognitive Neuroscience Society Young Investigator Award  2010
Arnold O. Beckman Research Award, University of Illinois   2009, 2003
Helen Corley Petit Scholar, University of Illinois 2008 - 2009
Society for Psychophysiology Award for Distinguished Early Career Contributions to Psychophysiology    2006
Howard Hughes Predoctoral Fellowship in Biological Sciences 1994 - 1999
McDonnell-Pew Center for Cognitive Neuroscience Fellow   1994 - 1999
Philanthropic Educational Organization Scholar Award        1997 - 1998
Teaching Excellence Award, Department of Cognitive Science, University of California, San Diego            1996
All School Distinction Award, University of Illinois School of Life Sciences  1994
University Honors "Bronze Tablet"  1994
Additional Campus Affiliations
Professor, Psychology
Professor, Beckman Institute for Advanced Science and Technology
Professor, Kinesiology and Community Health

External Links
Recent Publications
Bogdan, P. C., Moore, M., Kuznietsov, I., Frank, J. D., Federmeier, K. D., Dolcos, S., & Dolcos, F. (2022). Direct feedback and social conformity promote behavioral change via mechanisms indexed by centroparietal positivity: Electrophysiological evidence from a role‐swapping ultimatum game. Psychophysiology, 59(4), [e13985]. https://doi.org/10.1111/psyp.13985
Dikker, S., Mech, E. N., Gwilliams, L., West, T., Dumas, G., & Federmeier, K. D. (2022). Exploring age-related changes in inter-brain synchrony during verbal communication. In K. D. Federmeier, & B. R. Payne (Eds.), Cognitive Aging (pp. 29-68). (Psychology of Learning and Motivation - Advances in Research and Theory; Vol. 77). Academic Press Inc.. https://doi.org/10.1016/bs.plm.2022.08.003
Federmeier, K. D. (2022). Connecting and considering: Electrophysiology provides insights into comprehension. Psychophysiology, 59(1), [e13940]. https://doi.org/10.1111/psyp.13940
Jongman, S. R., & Federmeier, K. D. (2022). Age-related changes in the structure and dynamics of the semantic network. Language, Cognition and Neuroscience, 37(7), 805-819. https://doi.org/10.1080/23273798.2021.2019286
Jongman, S. R., Copeland, A., Xu, Y., Payne, B. R., & Federmeier, K. D. (Accepted/In press). Older Adults Show Intraindividual Variation in the Use of Predictive Processing. Experimental Aging Research. https://doi.org/10.1080/0361073X.2022.2137358