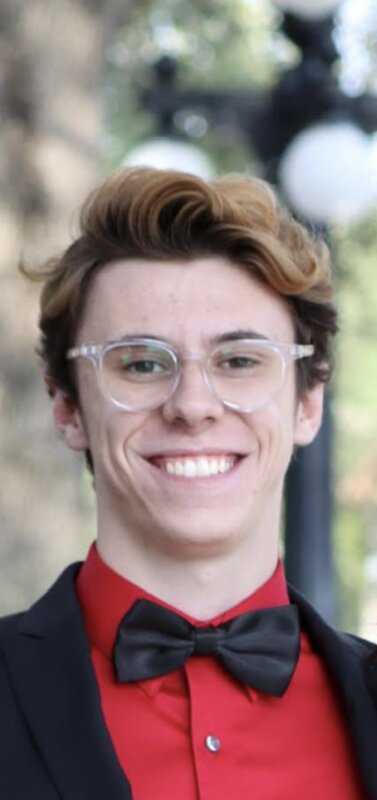 Contact Information
2514 Beckman Institute
405 N. Mathews Ave.
Urbana, IL 61801
Advisor - Dr. Daniel Llano
Biography
First and foremost, I love studying the brain. Ever since I can remember, I have been fascinated with the material and immaterial aspects of the most important organ in the human body. Neuroscience is a never-ending puzzle that I am passionately engaged in solving. I believe in the power of neuroscientific innovations to transform and improve the lives of people around the world.

With my undergraduate degree being in psychology, I have had the opportunity to dive deeply into the depths of the human psyche. With cognition at the forefront of my psychological interests, I embarked on writing an honors thesis entitled "Towards a Neural Representation of Music-Language Overlap: The Harmonic Prediction Violation Norming Model". This allowed me to combine my two utmost passions - neuroscience and music.

I have also been equally enthralled with applying computational methods to neuroscientific research. Ever since writing my first script in R which automated a laboratory task that typically took ~3 hours, I have been obsessed with the idea of using software to solve practical and analytical problems. After just picking up data science and programming techniques in the latter half of my undergraduate degree, it has become a highlight of my academic work.

Today, I am pursuing my dream of becoming a neuroscientist and am attending the University of Illinois at Urbana-Champaign to obtain a Ph.D. in Neuroscience. I am currently studying the auditory corticothalamic system and its multi-sensory integration dynamics. To study these circuits at the neuronal level, I am utilizing techniques such as slice physiology and patch clamp electrophysiology.

In my days at the University of South Florida, I studied the neural correlates of age-related hearing loss and tinnitus in the mouse model, utilizing extra-cellular electrophysiology as a window into the brain. I currently am in the process of writing manuscripts on signal-in-noise detection in the aging mouse model and a machine learning methods paper on classifying the acoustic startle reflex with a 98% degree of accuracy.

When I leave the laboratory, I tend to continue finding more avenues for my creative endeavors in my music career. I play the saxophone, with an intellectual interest in playing jazz, in which I find a beautiful crossover between my research and my music. Back in Tampa Bay, I performed with the Latin Jazz Knights, which was consistently inspiring on a creative and intellectual level. In Champaign, I strive to continue my musical pursuits by playing my horn as much as possible.
Research Interests
Auditory Neuroscience

Neurophysiology, neural circuits, computational modeling, neuroengineering

Member of the Llano Lab (http://llanolab.com)
Research Description
We study the mechanisms by which complex sounds, such as speech, are processed by the auditory system. We hypothesize that the auditory system generates internal models of the sensory world, and uses these models to extract meaning from complex sensory stimuli. One potential neuronal substrate for this generative model is the massive system of descending projections from the auditory cortex to virtually every level of the subcortical auditory system. These projections are critical for shaping the response properties of neurons in the auditory periphery, but very little is known about their functional organization.
We employ electrophysiological, novel optical, optogenetic, computational and advanced anatomical approaches to study the projections from the auditory cortex to subcortical structures. One specific set of issues that we address concerns the role of different cortical subnetworks in complex sound processing. For example, neurons in both cortical layer 5 and cortical layer 6 project to subcortical structures, and the neurons in these layers have very different intrinsic, integrative and synaptic properties. Our work explores the different roles that these groups of neurons play in the processing of complex sound.
Clinical/Translational: Our laboratory also has an interest aging-related auditory network dysfunction, particularly as it relates to changes in network properties in the auditory thalamus and cortex and novel imaging methodologies.
Education
2022-present      Ph.D., Neuroscience, University of Illinois at Urbana-Champaign
2017-2021          B.A., Psychology; Honors; University of South Florida
Grants
Psi Chi International Honor Society in Psychology Undergraduate Research Grant, 2020-2021
Awards and Honors
USF Psychology Honors Graduate, 2021
PAR Scholarship for Excellence in Psychology Recipient, 2021
Florida Bright Futures Academic Scholar, 2017-2021